10 tips avoiding car depreciation
How to avoid high vehicle depreciation? 10 valuable tips against a rude awakening
"I bought the car three years ago for 19,000 Euros as a used car, since then my wife has only driven 5,000 km with it. Today it's not even worth 8,000 Euros. How is that possible?"
This article from May 2019 is intended to give us an overview of the car market in Germany and thus help us make the right decision when buying a car.
This article is in particular intended to help expatriates to use a vehicle for themselves or their spouse for 2 to 3 years and to use it for shopping, picking up children from school and making short excursions.
Fundamentally, our recommendation from COS is that it is better to buy a well-maintained used car than to lease a new car at comparatively high costs.
This gives you the opportunity to drive a better-equipped, more valuable vehicle, while saving money at the same time.
The pre-requisite, however, is that you achieve a good resale price.
How this is done is explained here in this article.
How do you compare new vehicles with the used car market?
Of the approximately 3.4 million newly registered vehicles in 2018, 2.2 million were registered commercially and 1.2 million privately.
In the used car sector, around 8.66 million vehicles changed hands, of which around 7 million were registered privately. 50% of used vehicles are sold through brand dealers. By far the largest shares of these were vehicles up to 2 years old.
Germans spent an average of €30,000 on a new car. In the used car sector it was €15,500 in the brand trade, and in the free and general used car trade, vehicles are traded at an average of €8,900.
This information provides the first two findings:
1. finding: a used car is normal for the German motorist. Only very few people buy a car privately as a new car.
2. finding: a used car should be priced between 9.000€ and 15.000€ in order to achieve the lowest possible loss of value.
How many vehicles of the general used car trade are sold commercially or privately?
There are no fixed figures for this, as there are strong fluctuations, which are determined by the season and the economic situation. However, it can be seen that the number of privately sold vehicles has fallen very sharply in recent years.
This can be confirmed by an evaluation in various internet portals. The inquiry in December 2018 of a 1 year old used VW Golf resulted in a total of 15,973 advertisements. Just 119 of these were marked as "from private". A shift occurs when searching for older vehicles, in this example a 7 year old Golf. Here 861 of 4086 ads were marked as "private".
3. finding: especially the brand trade sells no, or only very few vehicles older than 2 years. Likewise one can hope for a real bargain to get a young used car from a private seller
Which engines are the most popular on the German vehicle market?
Half of all newly registered vehicles in Germany come from the 1.5-2 liter displacement class. 1.4 million Vehicles were ordered from the 1.2-1.4 liter capacity class below. Only 1.5% of all newly registered vehicles have a larger displacement of more than 3 liters.
The assertion that "cubic capacity can only be replaced by even more cubic capacity" has been refuted not only technically but now also statistically: In 2017, new cars with an average of 148 hp were purchased, so that the development of "downsizing" engines with a simultaneous increase in performance has finally taken hold.
The "petrol engine" (gasoline) still accounts for the largest share of combustion engines. Around 2/3 of all new cars were equipped with them. The diesel engine accounts for the remaining third.
Due to the heated discussions in recent months, it can be assumed that the share of diesel engines in passenger cars will decline sharply. According to Auto-Motor-Sport Stuttgart Magazine (November 2018), the share of hybrid drives has risen to as much as 4.3% (plug-in +114%, full hybrid +76% compared to the previous year). The share of vehicles with purely electric drive is 1.6%. This is an increase of almost 120% over the previous year. Only 0.2% of newly registered vehicles run on natural (CNG) or liquid (LPG) gas. Most gas vehicles are therefore converted during the course of use.
4. finding: according to today´s experience, COS recommends a fuel-saving gasoline engine in combination with electric-drive. So currently we fully recommend Hybrids or plug-in hybrids. The future will be pure electric-drive vehicles.
Which special equipment should be chosen as a minimum?
To make it easier to understand, we carry out a sequence in the amount of the surcharge for the additional equipment.
While in America, vehicles with manual transmission are exotic and even require a separate driver's license, in Germany, according to the industry association "Deutsche Automobil Treuhand" (DAT), only every fourth car is equipped with automatic transmission. In the past, automatic transmissions were reserved for luxury class vehicles, or had to be ordered as optional equipment for very high surcharges. Today there is a trend reversal towards automatic transmissions or automated transmissions. And this trend reversal is additionally supported by electromobility (no manual transmission): "Cars with manual transmissions will be a niche product in a few decades" (ADAC- Landsberg Technology center).
Most airbags (front and side airbags) are now required by law. Optional, without legal requirement, are knee/floor/window airbags. Each additional airbag brings more safety. The situation is similar with safety systems such as Distronic, Active Brake Assist, lane change assistant.
If a security system is explained to customers correctly and the price for the additional equipment is reasonable, then most car buyers choose this option.
Although everyone is aware that the smartphone provides better navigation, customers in Germany are very keen on an integrated (i.e. tidy) solution. German customers prefer the most powerful navigation system with the largest display. The consequence of this is that used vehicles without an integrated navigation system have a very strong loss of value. This statement is substantiated, for example, by the following: despite the character of the original off-road vehicle, two thirds of the new Mercedes-Benz G-Class is nowadays ordered with an optional dual display instead of classic pointer instruments.
Vehicles without air conditioning are virtually unsaleable. Nowadays, no one can do without this comfort and safety equipment.
Customers also value the added safety provided by xenon/LED headlights or even laser light, thus following the recommendation of the ADAC. Anyone who has experienced the difference between normal halogen headlamps and modern headlamps is aware of this. Xenon/LED headlamps offer approximately twice the range of a conventional halogen headlamp. However, not only the range but also the light output is much better. Because possible dangers are recognized earlier and better, you feel much safer and you drive much more relaxed.
Leather seats add enormous value to the vehicle. The wear resistance of leather is strong, it is easy to clean, it feels very good and looks great. Also for hygienic reasons a vehicle with leather seats is much more attractive than a vehicle with fabric upholstery. However, leather requires extensive care at least twice a year, otherwise wrinkles or even cracks will appear. A seat heating with leather upholstery is obligatory; otherwise the car is not for sale.
An insider tip with which a high attractiveness and thus a very good sales price can be achieved with a comparatively low surcharge is a trailer hitch. Even if most people use them only rarely, they are still very interested in flexibility.
5. finding: a vehicle is to be attractive for resale, it should be equipped with automatic transmission, extensive safety equipment, air conditioning, a permanently installed navigation system and, if possible, leather seats.
Does energy efficiency play a role in the purchase decision?
An evaluation by the Federal Statistical Office from 2017 shows that energy efficiency is also a key factor in the decision to buy a vehicle. The current best class A+ achieved 11.4 percent of new cars. Classes A and B accounted for 23.6 percent and 37.0 percent respectively. Average CO2 emissions rose slightly by 0.5 g/km to 127.9 g/km (+0.4 percent) compared to the previous year.
Due to the current heated discussions regarding particulate matter and nitrogen emissions and the resulting driving bans, the ADAC Ecotest classification will certainly be of great relevance in the future.
For many models, the ADAC has compared the emission measurement data from the test bench with the emissions emitted during actual driving.
Here Nissan NP300 Navara, Isuzu D-max, KIA Sorento and Ssang-Yong Rexton and the Korando land in the last places. Such models will therefore have an enormous loss in value.
The hypride models Hyundai IONIQ, BMWi3, VW e-Golf, VW -up! and the SMART EQ, on the other hand, are on the first places.
6. finding: taking a look at the database of the ADAC "Eco-Test" does not hurt and helps to avoid wrong decisions.
Which car models are bought most by Germans?
The largest segment of newly registered passenger cars in Germany is the compact class with a share of just over 23%. Sometimes this vehicle category is also understood as the lower middle class or even because this car represents this class: the golf class. The following cars belong to the compact class: Golf, Focus, Civic, 1-series, A-class, Mazda3, Prius, Auris, Oktavia etc.
The SUV (Sports Utility Vehicle) segment has grown very strongly, so that it is now the second largest segment with 15.2 %. Typical SUVs are the Cayenne, M-Class, Q7, X 5 etc.
This segment is followed by the small cars (Polo, Up, IQ...) with 14.5 P% and the middle class (C-class, 3-series, A4, Passat, etc.) with 11.9%.
At just under 31%, the remaining vehicle classes are grouped together, which include convertibles, luxury vehicles, pick-ups, large-capacity limousines, mobile homes, sports cars, etc. As these vehicles are more likely to be classified as exotic, an individual analysis is necessary in order to be able to make recommendations.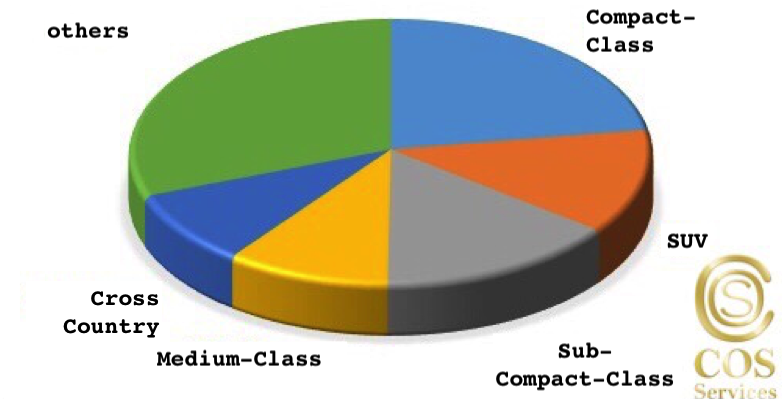 7. finding: if 80% of your requirements can be covered, COS recommends: buy a car of compact-class. You will have a good re-sell price.
Which brands are attractive?
As can be seen from the registration statistics of the German Federal Motor Transport Authority, German brands are at the top of the local market. Despite the "diesel gate", the top dog Volkswagen could not be displaced from its top position and is clearly in first place with a market share of 18.4%. In second place is Mercedes-Benz with just under 320,000 units sold, which means that in 2018 it could "only" sell half of Volkswagen's units.
The BMW and Audi brands often swap places three and four. At Audi, there has recently been a sharp drop in sales due to the handling of the stricter exhaust gas test cycle WLTP. The Ford and Opel brands remain in fifth and sixth place, which are comparatively popular, especially in northern and eastern Germany.
With regard to imported brands, it is worth noting that in 2018 Tesla's electric vehicles will record a huge increase of almost 75%. However, according to the Handelsblatt, the market share is negligible at just under 2000 units. Now that Tesla's production capacities have been greatly increased in the meantime, sales in 2019 will certainly rise. Germans love Skoda vehicles (5.6%) because they are equipped with technically mature VW parts, but are produced cost-effectively in the Czech Republic. Renault is in second place (3.9%) in the portfolio due to the low-cost small cars. The Korean manufacturer Hyundai (3.1%) is still in third place together with Seat due to its clever pricing policy and very good warranty services. Seat (3.1%) also belongs to the VW group and offers the same advantages as Skoda. Due to the higher production costs and the positioning of rather sporty vehicles, these are slightly higher than Skoda in terms of price, especially in accessories.
The prerequisite for achieving a good resale price is to buy a vehicle that is attractive and sought-after on the German market, rather than opting for a vehicle that may seem cheap but is in fact a slow seller.
| | |
| --- | --- |
| Type | Units 2018 |
| VW Golf | 211.517 |
| VW Tiguan | 74.749 |
| VW Polo | 70.488 |
| VW Passat | 70.007 |
| MB C Klasse | 62.784 |
| Skoda Octavia | 58.444 |
| Audi A4 | 53.340 |
| MB E-Klasse | 51.175 |
| Mini | 50.494 |
| Ford Focus | 49.278 |
| Opel Corsa | 47.848 |
| Ford Fiesta | 47.222 |
| Opel Astra | 45.932 |
| Audi A3 | 45.901 |
| Skoda Fabia | 44.900 |
| BMW 1er | 44.193 |
| Seat Leon | 43.045 |
| VW Touran | 42.623 |
| BMW 5er | 42.356 |
| Ford Kuga | 42.276 |
| MB GLC | 40.438 |
| VW Transporter | 39.433 |
| BMW 2er | 38.189 |
| Audi A6 | 37.170 |
| VW Up | 35.401 |
| VW T-Roc | 35.229 |
| MB A-Klasse | 35.252 |
| BMW 3er | 34.514 |
| Fiat 500 | 31.589 |
| BMW X1 | 31.521 |
| VW Caddy | 30.896 |
| Smart Fortwo | 27.405 |
| Dacia Sandero | 25.109 |
| MB B-Klasse | 24.846 |
| Opel Insignia | 24.755 |
| Hyundai Tucson | 24.055 |
| Toyota Yaris | 23.914 |
| Renault Captur | 23.834 |
| Renault Clio | 23.575 |
| Opel Mokka | 22.790 |
| Dacia Duster | 22.664 |
| Hyundai i20 | 22.559 |
| Opel Adam | 22.297 |
| Opel Crossland X | 22.217 |
| Nissan Qashqai | 22.143 |
| Seat Arona | 22.053 |
| Huyundai i30 | 22.044 |
| Citroen C3 | 21.844 |
| Ford Ecosport | 21.664 |
| Skoda Karoq | 21.054 |
8. finding: limit the choice of a vehicle from the best car manufacturers and select attractive models that have high sales figures.
Which car colours are attractive in Germany?
The exterior color is elementary for many car customers, so this question is dealt with here in particular.
In the 80s, red and green were the dominant colors for passenger cars. Every fourth vehicle was delivered in these colors. White, was very "in" at that time, and was in third place together with blue. Black, on the other hand, was the rarest only 31500 vehicles of a total of 2.4 million newly registered vehicles were black.
It is surprising how a different picture emerged on German roads within 10 years: red (720,000 units) and especially green (600,000 units) still led the statistics at the beginning, but black and grey gained strongly in attractiveness. Certainly the design of the vehicles, in which aerodynamics were prioritized, also had an influence on this development. In the middle of the 90s, black and grey came to the top of the statistics. More than half of the 3.3 million newly registered vehicles were delivered in black or grey. White did not play a role at all. "On white you can see every little spot of dirt, you have to wash your car all the time", were the voices. It was even frowned upon to drive a white car, people felt it was "tasteless", the cars would look like "just primed and then forgotten to paint". Accordingly, white cars were virtually unsaleable and often had a value disadvantage of -20%!
The attractiveness of dark vehicles continues to this day. Dark colors still stand for elegance. One third of each vehicle is black or grey. Since 2010, white has become modern again in Germany, especially for luxury vehicles. So that in 2017 about one sixth of the 3.3 million new vehicles were delivered in white. In contrast, the delivery of red or blue vehicles, with 320,000 and 220, 00 units respectively, has fallen sharply. Green vehicles, with just 39,000 units, have almost become exotic.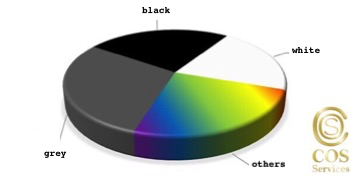 9. finding: exterior colors are the most important purchasing decision for many people. So it has to be chosen so that most people like it: black, grey, white.
Which vehicles would be better avoided in order to avoid any bad surprises through technical errors?
The Federal Statistical Office has published the statistics for 2017. They show that 28.1 million vehicles were examined, 34% of which were objected to.
The most common defects are the lighting systems and electrics/electronics. These do not include defective light bulbs, which can even be replaced directly at some test centers, but damage that requires extensive repair (e.g. replacement of wiring harness, control unit, etc.).
In second place are defects in the brake system. Followed by defects in the axle, suspension and wheels. Particularly with older vehicles, oil loss and damage to the edges mean that the vehicle does not pass the main inspection and sometimes becomes an economic total loss. Of all vehicles inspected in 2017, 15.3 million were over 9 years old.
This information confirms the, for most people, surprising evaluation of the Federal Motor Transport Authority: all passenger cars registered in Germany are on average 10 years old!
There are car manufacturers who produce very beautiful and cheap cars. A technical consideration regarding driving behavior, safety and durability and the related effect on the loss of value, leads to the fact that we do not recommend these vehicles. Some of these manufacturers have specialised in "emotionalizing" groups of people who are unable to judge which technical characteristics. For example, women's hearts beat faster with large headlights. Also every second SUV is driven by women in the meantime, because they feel "protected" in it. Men, on the other hand, find it hard to resist racy or sporty designs and thus make purchasing decisions that cannot be justified objectively.
10. finding: if you are not an absolute car fan, we recommend refraining from emotional buying and limiting yourself to models from proven German and Japanese manufacturers.
COS Services
Service with best expertise and reliability
Car Inspektion of all makers, spezialized in historical and premium cars
TÜV inspections including fetch and bring service
Car repairs are done by long years experiences car Meister, who is spezialized in premium cars
Support in buying/selling cars, including Import/Export and transport
BBS rims dealer: customer specific rims including tyres provided to fantastic prices
Get in touch with us:
This email address is being protected from spambots. You need JavaScript enabled to view it.